I am upset about many things mostly having to do with my hometown and the people and things in it. If I never see that place again I will be satisfied and happy.
But that probably won't happen. I won't dive any further. I don't really feeling like whining anymore about things that suck and have sucked for over a year.
ENOUGH.
Anyway. I went down to Corpus for the weekend with intentions which were promptly crushed. I did get to see friends so I suppose all is not lost. So I came back on Saturday, bought an end table from the Crate and Barrel outlet and slept.
Justin came back from Ft. Worth which makes me happy and I also made this: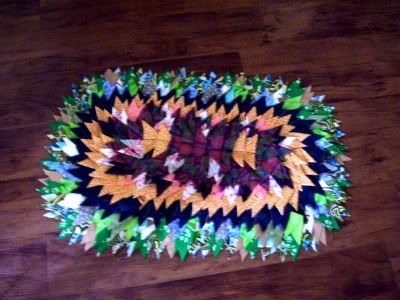 It's a rug which is now in my kitchen. I originally wanted an all blue/green/neutral color scheme but I didn't have enough scraps. At least this is one way to recycle otherwise hard to use extra pieces of fabric.
I also found a shirt which is nearly finished except for a missing sleeve that I didn't even remember making. Maybe I'll try to fix that, too and make it look nice.
I'm in a crafty artsy mood. We'll have to see where that goes.